As another year draws to a close, Thanksgiving is here and it gives us great reason to reflect on our many blessings. A group of nine Sunpro employees joined together to donate 279 pounds of food to the Houston Food Bank to help those in need have a better holiday season.

Houston has been a wonderful host for our Texas headquart
ers, but this has been a tough year in Houston for a lot of people. We are honored to be in a position where we can give back a little bit to our fellow Houstonians that have had such a tough year. Houston has come together in the past few months with incredible resilience and we are honored to be a part of this community.
Thank you, Houston.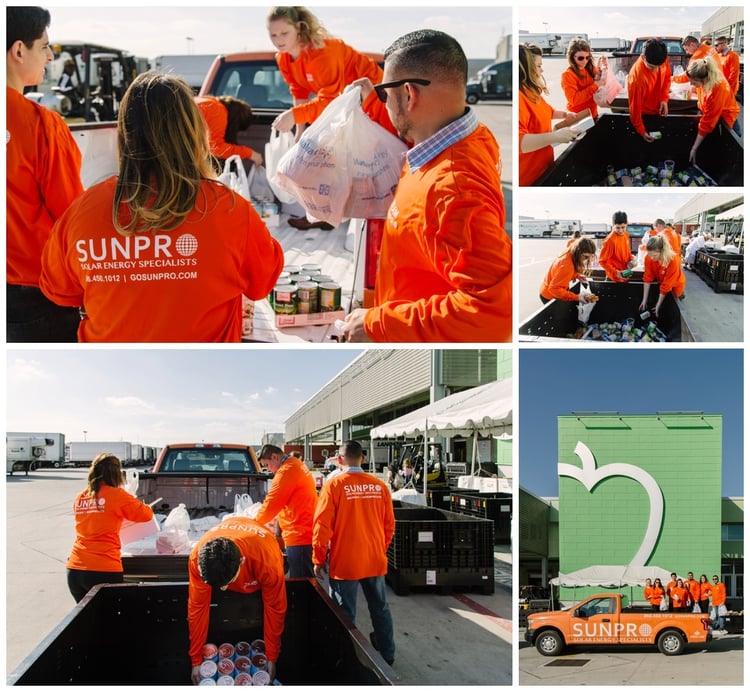 We are thankful for the great experiences that our clients have had and how they have shared those great experiences with us. We love hearing these stories and sharing in the joys of free electricity, the experiences they have with our expert, fun employees, and how exciting it is to tell friend and family about the great technology that allows them to not worry about how much electricity goes up in price every year.
We are thankful for net metering. With solar panels, we can sell back the extra electricity to the electric company, that they then use to power other houses in our neighborhood. And the power they buy back comes off your solar bill while your neighbors have clean, renewable energy powering their houses as well!

We are thankful for $2 Electric Bills. We can sell enough power back during the day that we can break even with the power we use from the power grid at night.
We are thankful that Sergeant Major Dasher's solar bill was cut from almost $200/month to the power company owing him $3.50. Sergeant Major, thank you for your service.
We are thankful for our mothers, and glad we are in a position to provide mom with solar power. Free electricity is just a small token of gratitude for what you have given to us.
We are thankful for the 30% federal solar tax credit, helping make solar power affordable for everyone. Thankful that that tax credit can even be spread to up to 5 years.
We are thankful that careers in the solar industry are projected to be the fastest growing jobs in the nation for the next ten years by the Department of Labor. We are looking forward to all the new faces that we will join us on the journey of providing clean electricity and saving money.
We are thankful for the joy and hope that the Astros' World Series win brought to the city of Houston and the State of Texas. We literally love Jose Altuve and Justin Verlander.
We are thankful for the friends and family we get to work with every day at Sunpro. Without a great team of people, this couldn't be as fun and exciting as it is. Working with people you care about makes any job better, but getting to work with people you care about at a job where you can save people money and help the environment is truly special.
We are thankful that if you put a couple pieces of paper just right in our scale, the scale may not actually tell you how much weight we gained this long weekend accurately. Did I mention grandma's cornbread stuffing? Goodness.
We are thankful that you are joining us on the journey of saving money on electricity with solar power. Together we can do great things that we could never do alone. We can cut our dependence on fossil fuels. We can cut our greenhouse gas emissions. We can sell power back to the electric company. We can have electric bills where the electric company owes us money.