Solar: Financial Freedom for Mom
For most people, solar energy is a way to save money and help the environment, but for brothers Christopher Nazario and Vicente Nazario, it means even more.
As employees of Sunpro Solar, they understand the impact solar energy can have on dramatically reducing electric bills.
Solar is now a way they can help their own mother to financial freedom.
Darlina Nazario has paid over $33,000 for electricity since she moved into her home, but those high bills are now a thing of the past. With a recent energy makeover, including solar panels
and a whole home energy efficiency upgrade
, Darlina is actually selling electricity back to her electric company, powered by El Paso's endless sun
shine.
Going Solar: A Gift
Christopher and Vicente joined Sunpro a little over a year ago. As two of the original team that opened the Dallas office, they were ready in the summer of 2017 to m
ove back home to El Paso
and pioneer
solar operations in El Paso.
"Being able to help people in Dallas, we knew we were going to finally be able to give back to the one person who cared for us the most: our mom. Now she can use the money she's saving for a spa date or a
vacation!"
says Vincente.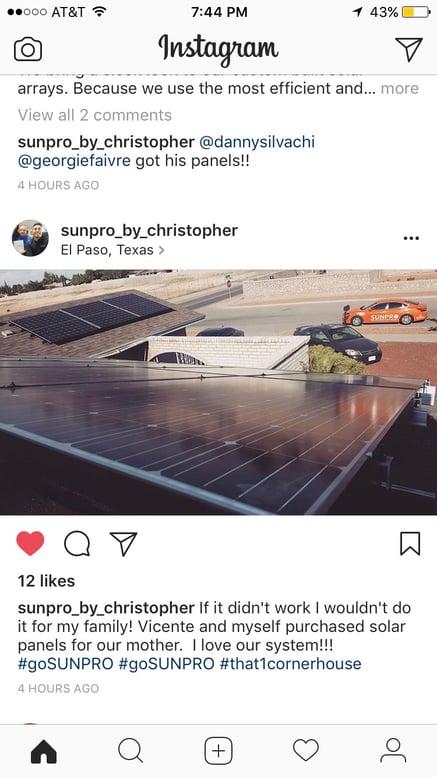 Going Solar: But Wait, There's More!
Darlina received more than just solar panels. With her solar energy implementation, she also received a home energy efficiency audit and upgrade. This analyzed how her home utilizes electricity, and helps fix major sources of energy loss. Darlene's lighting was upgraded to LED, a smart thermostat replaced the traditional thermostat, her home and vent ducts were sealed to prevent energy waste while increasing the overall energy efficiency.
With solar, a new electric meter was installed on Darlina's house, allowing her to take advantage of net metering. During the long, sunny days in El Paso, her solar panels will actually produce more electricity than she uses at times. Net metering allows Darlina to sell the extra electricity produced back to the power company and her electric bill is credited while providing more power to her neighborhood. With an average rate increase of 3.5% she will save about $30,000 in the next 15 years. We can compare this to the $33,00 she has spent over the last 30 years.